How To Make Money From Car Boot Sales By RESELLING What You Buy
Car boot sales/yard sales can be a GREAT way of making money on the side, but lots of people don't know HOW. Let's break this down so it's easy to understand.
Normally they happen on large fields or airfields, or even inside a local hall etc, but these are usually called jumble sales. Did you know that you can make thousands of pounds from these goldmines people call car boot sales.
The way to do this, is not by selling anything at a car boot sale, that's not going to make you money, it's about buying things there, and then selling them elsewhere. Let's explain..
How can you make money from Car boot sales?
Buying things there and then selling them for a higher price.
It's the oldest known profession and it's where a lot of money can be made. Lots of people buy and sell all over the world, every day. Car boot sales are places where you can find bargains and then sell them on later to make a tidy profit. We'll show you how, and what to look out for.
Many people at car boot sales don't know the true value of the things they are selling, and to make it even better for you as you're trying to profit from them, sometimes they will give away items at the end of the car boot sale.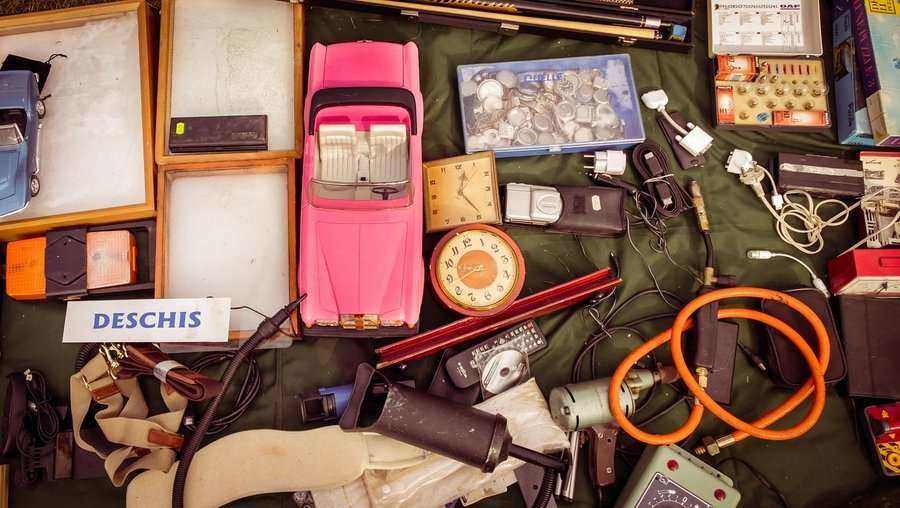 The trick to making money from car boot or jumble sales is to buy things which can be sold for a much higher amount somewhere else, such as an antique auction, Ebay, a Pawn shop or even to someone you know! Easy, right? There are a few ways you can make money from car boot sales, and they involve finding someone willing to pay a higher price than you did for something.
Tips for making money from car boot sales
Bring a large bag to put all your things in. You'll need to be able to carry all the things you get.
Bring small change/money to haggle with. You can almost always agree a lower price by haggling or just bartering with the stall minder, always worth a try.
Allow enough time to properly look around each stall. You'll need enough time to be able to look at each stall for at least 5 minutes, that adds up to about an hour or two for an average sized car boot sale.
Come at the right time, either when it's just closing or just opening. Never in the middle. The bargains are found either at the very start, when people sell things they don't know the value of, or right at the end, when people want to make a final profit before closing.
We'll go through what items to look for and how to profit from them in a second, for the moment, just make a note of the tips mentioned above. You'll need to arrive at the car boot sale on time and with the right money and bags to carry the things.
Now that we've covered the ground rules and basics, let's go through how to find items you can sell, and how to sell them.
What items to look for at car boot sales
The items you want to look for at a car boot sale are as follows. Remember there may be other things at the car boot which can be sold. You'll get a feel for what items you will be able to sell somewhere else, it's all about practice.
Rings, necklaces, and other jewelery. Anything small and probably valuable you want to buy, but as we will explain in a moment.
Lots of small items, like for example bulk packs of lighters, make up, shampoo etc, anything where you can get a lot of something for a small amount of money.
Things which you either know are antiques, or that you could try and sell on Ebay to a collector.
Unusual or foreign and interesting items. Anything which you think might be of interest to someone.
Free stuff. Right, this is probably the easiest possible way to make money from car boot sales, most people at car boots will give away for free their remaining items at the end, if they don't want to pack them all up again. Anything you sell that was free is obviously a profit.
How to SELL the things you buy
So you've got a little collection of car boot sale items, and you want to know how to sell them. Basically, you can sell them in a range of places. We'll go over some of the most popular ways to sell them. The thing to remember here is that you must sell them for a higher amount than you bought them for.
It may help to keep a spreadsheet of the items and how much each one was, so that you can make sure you're making money by selling them for more. The goal is to sell them for a significant amount more than you paid for the items.
Sell online with Ebay or your own website
If you have a website or a blog which you use to sell things, you can put an advert on there to sell your items, include a detailed description and don't falsely advertise the items, if you don't know much about it,
Don't make it up just be honest and say you think it 'might be a collectors items' if you're not sure. There's no harm in writing that you 'think' it's a collectors item, as that way if it isn't, you didn't make any false claims. People that are interested will buy it, don't worry about knowing everything about the item, as long as you've set the price for higher than you paid for it, you'll be okay.
You can Also sell your things from car boot sales on Ebay, if you don't already have an account they're free and easy to sign up for, and you can easily put an advert on there selling your items. You can also sell 'job lots' on Ebay meaning you can sell lots of items in one sale. This makes it easier for postage and means you can get rid of some of you items in one big go.
It's worth mentioning that to make the most money you'll probably want to separate your items and sell things individually.
At pawn shops, or Jewelers
If you have found some rings, necklaces, earrings or other jewellery and it's real silver or gold, you might be better off selling it at a proper pawn shop who buy gold and silver by weight. They can offer you a better price sometimes, and they will give you instant cash, no waiting around for Ebay sales to go through.
To people you know, or friends of friends
There is someone out there who will want your things, chances are you know someone who will want something you've found. If you see something at the jumble sale or car boot that you think someone you know would like, get it, then sell it to them f  or a higher price.
It may seem like profiteering, and it is! They're still probably getting the things they want at a lower price than they would normally, so everyone's a winner. You get money, and your friends get the items they want at a low price.
You can also ask your friends if they know anyone who would be interested. This way you can broaden your circle and finding a potential buyer for your stuff will become a lot easier, specially when you use social media such as Facebook to promote your things.