Do you want to boost your brainpower, feel better, look better, and get healthier..
If you're Vegan (or even if you're not) the chances are you want to be better..
You want to feel better, look better and think faster, right? Who doesn't?
Well, there's actually a fairly easy thing you can do to start doing all of those things, and that's drinking Vegan smoothies and soups.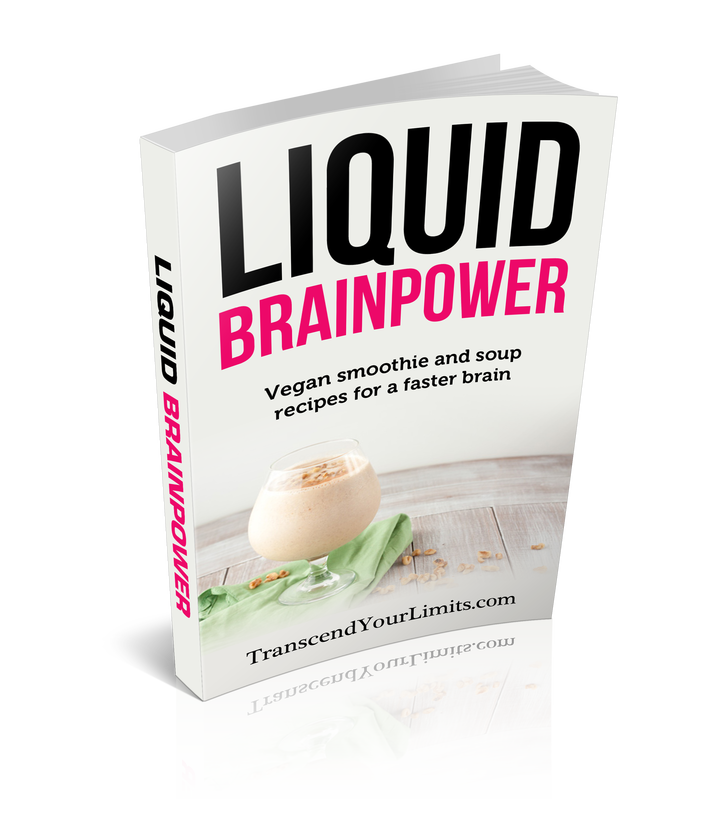 Why Vegan?
Because the Vegan diet can literally give you 'superpowers' (compared to your non vegan peers) by making you stronger better and faster than non vegans, and smoothies are a very easy way to get all the vitamins and nutrients you need with VERY little effort.
You just have to blend the stuff, and drink it! It's so easy, anyone could do it and the best part is smoothies actually taste good! They're enjoyable and so even if you're not Vegan, you enjoy a smoothie!
Why should I drink Vegan smoothies and soups?
They're a very easy way of getting the calories you need to grow stronger, and also the vitamins and nutrients your brain needs to work better and think faster.
When you blend things, you make them more bioavailable, meaning your body can more easily digest them and turn them into things you can use to get stronger!
What's included in Liquid Brainpower?
Liquid Brainpower is a complete guide to smoothies and soups for the Vegan diet, and how you can use them to grow stronger. It's focused mainly on two things: Improving your brainpower (so you can think faster and DO more), and Getting stronger and staying in shape..
Inside the guide you can expect to to find/learn:
Over 63 unique smoothie and soup recipes designed to boost your brain and make you stronger, along with an explanation of how the ingredients work and what they'll do for you
A beginners guide to Vegan shopping and getting the right stuff, and not falling for the marketing scams of many Vegan oriented companies trying to get your money
The types of food you should never eat if you want to be healthy, and what to NEVER put in your smoothies
Plus loads more!
[alert-announce]
Get instant access to Liquid Brainpower right now for a one time investment of only $67 today only: $19.99
Remember you get: 
Instant lifetime access to the digital product (PDF download)

Lifetime email support from me so you can always get help and advice

Lifetime free future updates to Liquid Brainpower
Click here now to check this out on Amazon! 
[/alert-announce]
Questions?
What will I actually get? You get a PDF download (Over 80 pages) which contains all the recipes (and is beautifully illustrated)
How do I access the product? Once you click the buy button, a popover appears with the option to go to Paypal, where you can use any Credit or Debit card or Paypal if you have an account
What if I don't like it? If you don't like the Ebook or the recipes, you can request a no questions asked refund!
What will drinking these smoothies do for me? Drinking smoothies is one of the best things you can do for your health because when you blend things they become more available for the body to digest. These unique vegan recipes are specifically for getting stronger and boosting your brainpower!
What if I don't like smoothies? The recipes are really tasty, but if you don't want smoothies there are also LOADS of soup recipes for building strength and brainpower! It's a no brainer, even if you just want to test it out and see what they're like!