The Most Luxurious Crewed Catamarans to Hire in The Indian Ocean 2018
If you're headed to one of the Indian Ocean's beautiful destinations, you should consider hiring a crewed catamaran to complete your trip. Whether you're headed to the Seychelles, the Maldives, or Mauritius, you want to explore the archipelago properly. The best way to do this is by boat. More specifically though, for the ultimate luxury experience, you want to hire a crewed catamaran.
Why hire a crewed catamaran?               
There are plenty of boat trips and hires available in the Indian Ocean, but hiring a catamaran will give you the freedom to explore, relax, or adventure at your own pace.
Catamarans have a shallow draft
Their shallow draft means that you can get close to islands, much closer than a monohull could. This means you can explore coves and islands up close, and reach areas that might otherwise have been off limits.
You can also beach a catamaran without damaging it at all, so you can easily jump ashore and explore on land.
They're basically unsinkable
The great sailing performance of Catamarans isn't likely to falter. They make for a great sail, regardless of the weather, and they can even withstand more damage than monohulls.
It would take a hell of a lot to sink a catamaran so you can bet you'll stay safely cruising regardless of your sailing conditions, barely affected by any obstacles.
The perfect luxury sailing experience
As if convenience and safety wasn't enough to persuade you that catamarans are the best way to go when hiring a boat, they offer the perfect luxury sailing experience.
With a crewed catamaran you'll have the perfect all inclusive sailing experience, without having to do any of the hard work. You can just sit back and enjoy the ride: take in the scenery, relax, go for a dive, anything you want! You'll see all of the best sights, and you'll be well and truly looked after.
The layout of catamarans is also perfect for a luxury experience. You can relax on the trampolines, take a dive to see the most exotic fish through clear blue waters, or have lunch on deck. Some crewed catamarans even come fully equipped with water toys like paddle boards, kayaks, and of course quirky inflatables.
Crewed catamarans are perfect for everyone 
Whoever you plan on taking with you on your trip, whether it be a special someone, your favourite friends, or the entire family, catamarans are everyone's idea of the perfect luxury experience.
They're great for relaxing, exploring and adventuring or even afternoon drinking in style. They're also the ideal way for those who get sea sick to take to the seas, as they don't roll around quite so much as other boats.
Most luxurious crewed catamarans to hire in the Indian Ocean (list)
By now you should be well and truly certain that a crewed catamaran is the best possible way to make the most of your Indian Ocean adventures. So to help you plan your dream trip and the ultimate luxury experience, here are some of the best crewed catamarans available for hire in the Indian Ocean.
1: Custom 85 Catamaran – The Seychelles and Madagascar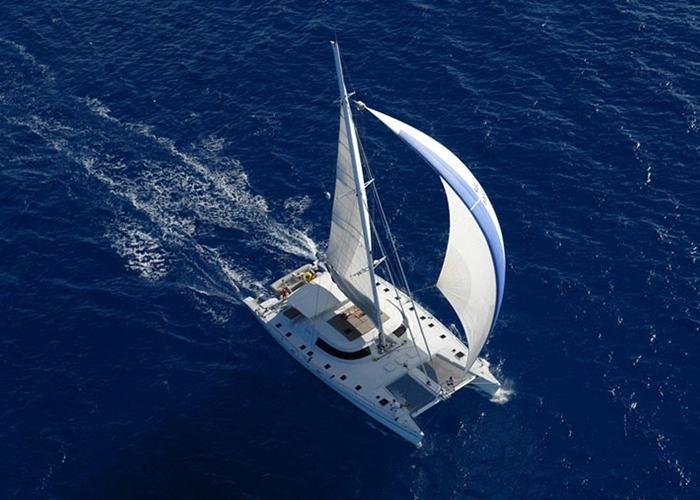 If you're looking for impressive, look no further. This crewed catamaran has it all. In fact, it's one of the largest sailing catamarans in the world. And for $50,000, it can be yours for a week.
It's perfect for a relaxing cruise whilst watching out for whales. Or if you were hoping for something a little more adventurous, you can try windsurfing, kayaking, paddle boarding or wake boarding alongside the cat. And of course, there's also snorkelling and fishing gear.
The Custom 85 Catamaran can accommodate up to 16 people, so it's great for large parties of friends or family gatherings. There are 4 double cabins, each with a queen size bed and a single bed. Then there are also 2 twin cabins. So whoever you plan on taking with you, there's definitely enough space!
You'll be well and truly looked after on this cat, with your crew knowing the best and most secluded diving destinations. The diving team can help you reach new depths, in a location that you'll have often entirely to yourself. Then you've got your 3 meals a day to look forward to, and one of the best entertainment systems to make use of in the evenings.
2: Eleuthera 60 – The Seychelles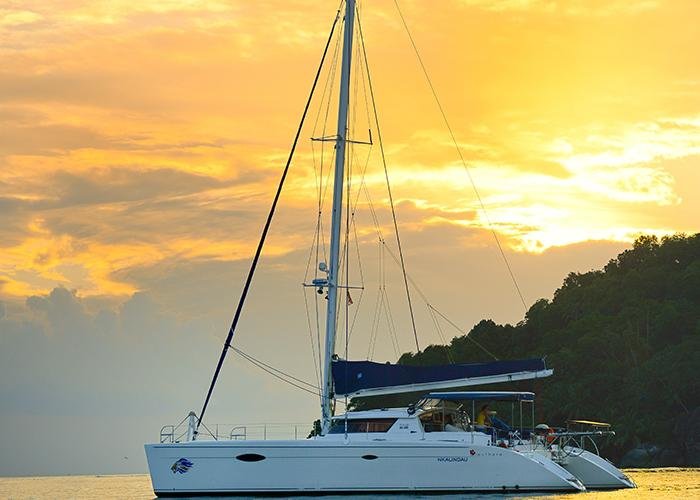 The Eleuthera 60 has room for up to 20 people during the day, so it has the capacity to be the ultimate party boat. It can sleep 10 people overnight, so it's a good choice for those larger groups.
It's ideal for a relaxing vacation, but at the same time, if you prefer your trips to be packed with adventure, you won't be disappointed. When you go for the Eleuthera 60, it's not just a catamaran package. Instead, you get access to kayaks, dinghies, snorkelling and fishing gear, so you won't be short of things to do, or different ways to explore the Seychelles.
Of course you've also got plenty of technological entertainment as well, for the evenings. This catamaran comes with a full entertainment system, several high quality TVs, on board internet, and a collection of books, DVDs, and even games (and a games console!).
To hire this incredible crewed catamaran for a week, you're looking at approximately $25,000, fully inclusive of crew, equipment, and meals.
3: Lagoon 620 – Langkawi, Malaysia and Thailand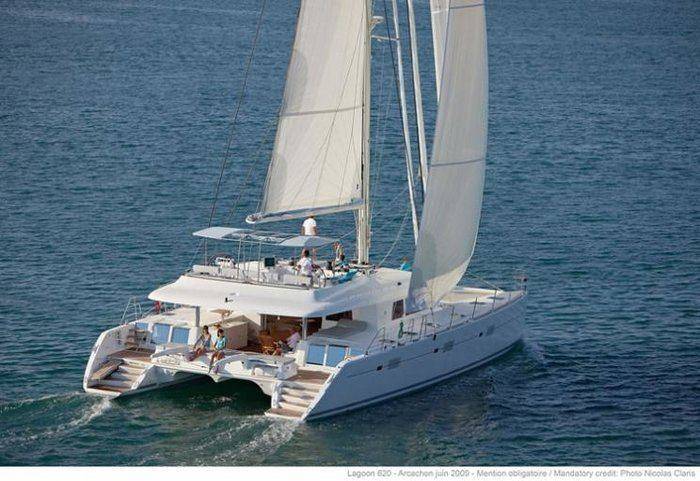 One of the best things about this catamaran is that when you hire the Lagoon 620, you get to go on an adventure around the waters of Malaysia and Thailand. There's always new things to see and new places to explore when you go out on this boat. You can also tailor your itinerary to suit you, so that you can explore at your own pace.
You of course get to use the water toys and snorkelling gear that come with this cat as well. Your crew will serve you amazing meals on the Lagoon's beautiful deck, but if you fancy dabbling in cooking yourself, there's always the onboard BBQ for a classic BBQ evening.
This catamaran has space for up to 8 people. There's one master cabin, and two double cabins, all with queen sized beds. Then there's a smaller cabin with 2 single bunk beds. All of the cabins have en suites!
The Lagoon is one of the most beautiful catamarans for hire in the Indian Ocean, especially when the deck is lit up against the night sky. This beauty comes at a price of around $40,000 for a week of luxury.
4:  Sunreef 62 – Indonesia, Thailand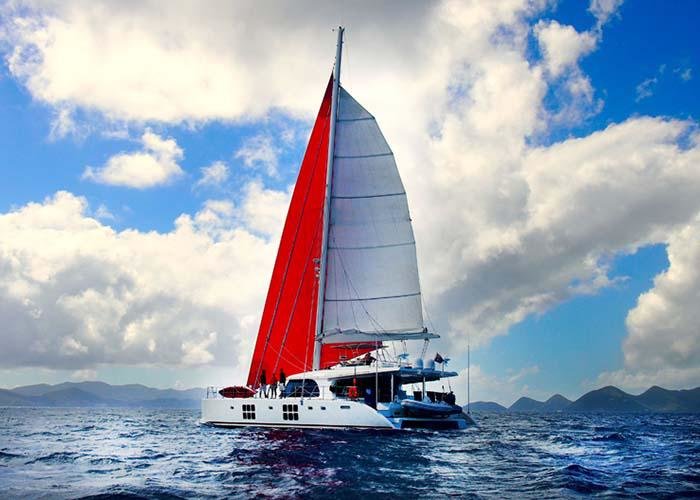 This might just be the coolest looking crewed catamaran in the Indian Ocean – both inside and out.  There's not a single part of this catamaran that doesn't scream luxury.
From afar the Sunreef 62 is undeniably a luxury catamaran, and one that's sure to make other sailors jealous. But once you step onboard it just gets better. The cabins are absolutely beautiful, and as for the social area, it's going to make you feel like royalty.
But the breathtaking of the Sunreef 62 means she's also one of the most popular catamarans available for hire.
Despite her beauty though, the Sunreef 62 is available at a cheaper rate than many of the other luxury yachts. You can hop aboard this cat from around $35,000 a week.
She is slightly smaller though, only accommodating up to 7 people (or 6 if you want to take a dive master with you). There are 3 double rooms, and 1 single cabin, all of which have en suites.
There are games for playing on board and in the water, so whoever your crowd is, you're sure to find something everyone enjoys.
To sum up…
Hiring a crewed catamaran is the perfect luxury experience. You can get away with a few of your favourite people, and explore in a way that suits you.
This private travel experience will have you feeling like James Bond, and you can bet you'll end up with some truly unique travel stories. Not many people can say they've enjoyed a private luxury yacht charter around one of the most beautiful places in the world.
They say that an investment in travel is an investment in yourself, so by that logic, hiring a crewed catamaran, even if only for a week, is one of the greatest investments there is.