Setting up your first website? By the way, if you're reading this right now, just STOP for a second:a
You've found the best guide to setting up your first website, I'll answer all the questions floating around your beautiful head, and after reading this you'll have your own website live, on the internet.
Don't close this tab, or click your back button!
Ready?
I'm not going to go into research for a domain name and any of that stuff, this is going to assume you know what your website is going to be called. Let's say you want 'myfirstsite.com' and you're ready to set up your business/website.
The first thing you'll need is website hosting, right?
A web host is what stores all your website files, and when people browse your site, they're essentially being sent your website files BY the web host, so they can load them.
A domain name is the name of the site, for example, 'myfirstsite.com' and is what people can type into their browser to get to your site. You can register your domain name with the same company you get web HOSTING from, and I'll show you a way to get a FREE domain name shortly.
The two most popular and reliable web hosts for a first website are Bluehost and Hostgator. I'll proceed assuming you're going with Bluehost as they have the best deals (usually, check for yourself though!) but the process is the same pretty much for both. Here we go:
How to set up your first website
Here are the exact steps you'll need to take to create and publish your first website on WordPress, in under 4-5 minutes.
Here's how to start your first website on Bluehost, with WordPress in 2019:
1: Think of a domain name to use
Don't overthink this. You're going to need to come up with a domain name for your website. This CAN technically be changed later but you'll have to pay a small fee (about $10 a year) to change it. .com tends to be the best bet because it's 'stronger' in Google and stands a better chance of appearing on the first page.
So if your business is going to be about gardening you might have 'johnsgardening.com' hopefully you get the idea. You might find that lots of website domain names are already registered and so you can add 'modifiers' to the end of the domain name to change it if needed. For example:
myfirstsite.com
myfirstsiteHQ.com
myfirstsiteever.com
myfirstsitespace.com
Or just play around with the domain name until you find one that's free. Once you've thought to a few ideas, write them down and move onto the next step:
2: Create your web hosting account
To create a web hosting account, go here to get a discount, and sign up for whatever web hosting plan seems right for you. For a first site, I'd suggest the basic 'shared hosting' account as it's the cheapest but you can go through the options on the screen.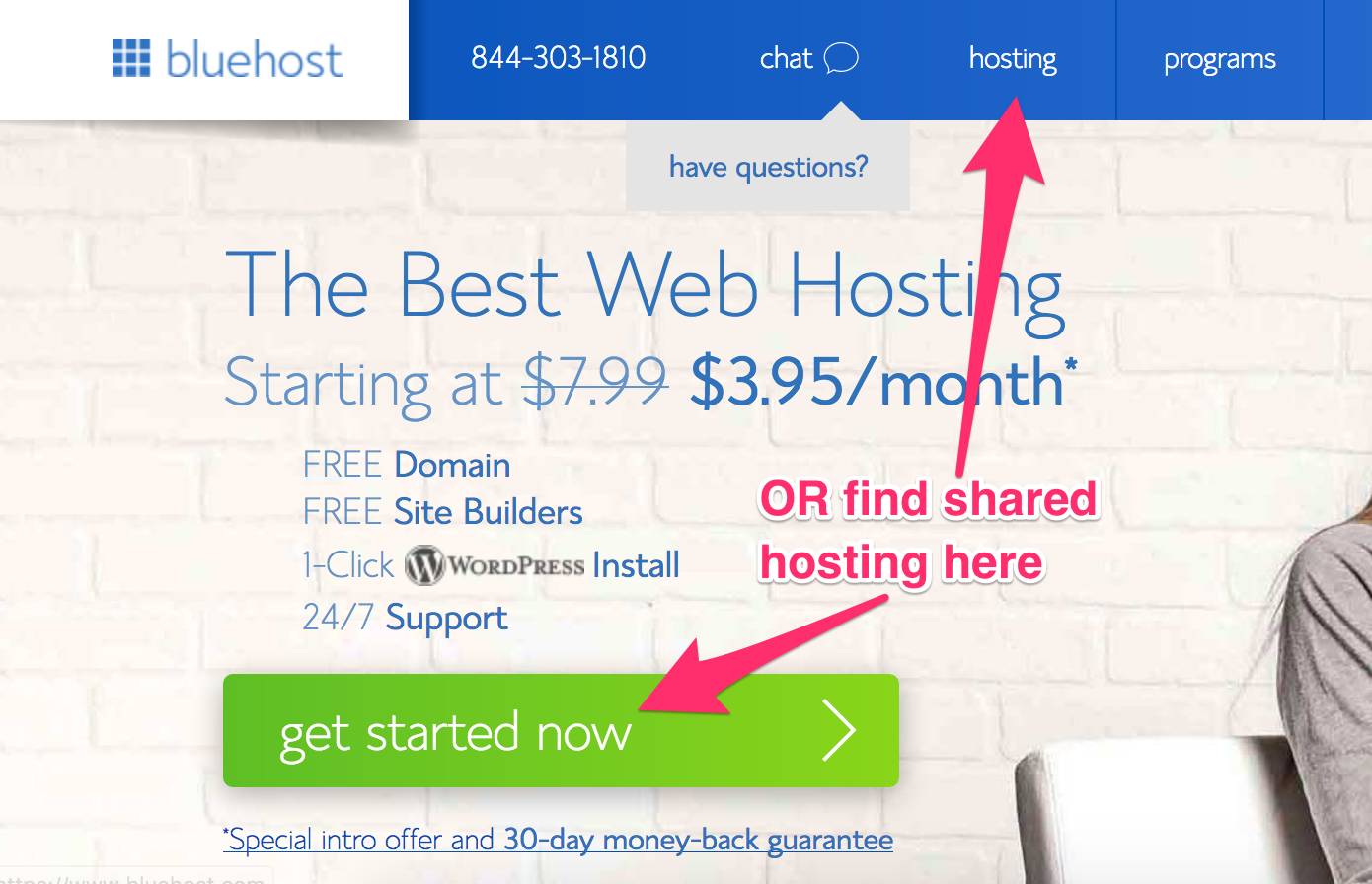 Enter your billing information, and be aware that there will be a small VAT charge added as well. If you're running a business, make sure you store your receipt as you can claim back web hosting costs as a business expense at the end of the year!
Proceed with account creation and once you've created your login information, move on to step 3:
3: Login, and install WordPress
Login to your 'cpanel' or dashboard. This is where you can change all the hosting settings and edit your files, but if you're going to use WordPress you'll rarely need to login to your hosting dashboard after today.
Scroll down and look for 'install wordpress' and click it.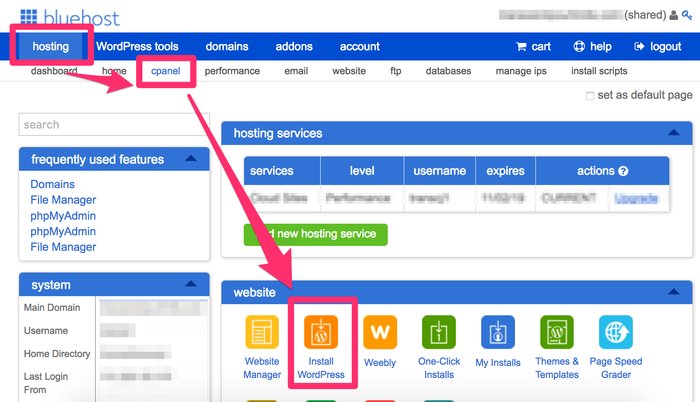 Select your site from the dropdown and install it! Now what will happen is after a minute or two, you'll be taken to a confirmation page. This page will try and sell you expensive themes for your site, but you DON'T need them if you don't want them!
There are plenty of free themes available once you've logged in and got set up! Of course, if you see one you like, then feel free to get it, but you can get much better value premium themes here on Elegant themes if you want, later.
4: Pick a theme and make a homepage
Now you're in your WordPress dashboard. You can find this again later at any time by typing /wp-admin AFTER your domain name in your browser. For example 'myfirstsite.com/wp-admin'.
Remember your login information and proceed. Go to Appearance and then themes. You can now sort by popular, latest or whatever here, and choose one you like. This can be changed at any time later.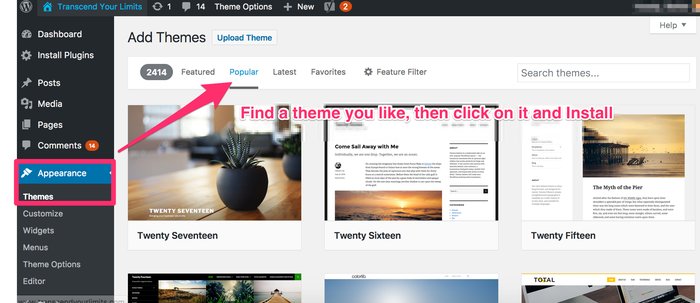 Go for a theme that's mobile responsive so it will shrink to the right size if someone's using a mobile. For now just choose something that will let you easily see your website, (or if you're cool with going over 5 minutes, spend some time choosing one you like)
5: Publish your first post
You've got your theme. Now go to posts and click 'add new'. You can type something there to test it out, and then click publish. this makes the post go live and you can see it!
Be aware that the URL of the post can be seen here: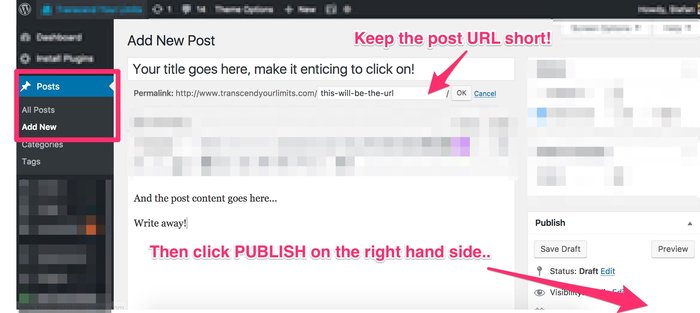 You can change that to whatever you want. For SEO (getting your posts seen more in the search engines like google) it should be useful and short. For example myfirstsite.com/my-post
Common questions and problems
1: What do I make a website about?
You can make a website about anything you want. The best way to start however, is to make a site about something people are actually searching for. Research what people are typing into Google using Longtailpro and then create a site around that if you like the idea!
2: What if I already have web hosting?
You don't need to read this guide in that case.
3: Why do I need to pay for hosting?
It is possible to find free hosting if you have a domain name like yoursite.wordpress.com or yoursite.weebly.com but these are WEAKER in Google, (don't rank as well and aren't taken as seriously) and don't appear at all professional.
If you're starting a business on a free domain like that, the first thing potential customers will think is 'what sort of business is this if they can't even afford a domain for $5 a year?!'. You also have much less control over free domains like that. Better to just buy your own, and own your business.
You're done!
And that's it! You're done. You now have a website, ready to go and you can start writing blog posts, selling things, or otherwise building your business and empire.
I have other guides for things like growing website traffic and creating passive income etc but for now, here are some useful tools you might want to use: