So in late 2018 I went to Prague for just under two weeks. It was a perfect little trip, and I feel like I saw a lot of the city and what Czechia had to offer. Here's some of the things I've learned.
So firstly, Prague is a small (well, smallish) city in the Czech Republic, in Europe. It's a cute place but it also has a gritty night life and party scene as well, so there's sort of something for everyone.
I would say it's great for couples and friends to go to. It's probably really good for solo travel as well, but I just went with a couple of friends and my girlfriend. This meant we could split costs, and it was overall more fun.
I actually filmed several vlogs while in Prague, I think about one a day, so for those of you who prefer watching than reading, you can check them out below. Don't forget to click through and subscribe, especially if you want to watch or read more about my journey through South East Asia.
Things to do in Prague
These are in no particular order, but I'll try and also share things I learned about the city and country as I go. I found that there were of course more quirky little things in the city to do than most other European cities I've seen. It's not the sort of place you'd go for hiking and mountain type things, ALTHOUGH there was one hike that was amazing, although a bit of a drive out of the city.
1: The absinthe museum
So really, this was more of a really interesting bar than an actual museum. It's a little hard to find, because we had to walk down a few little backstreets, but if you've got Google maps or something then you'll be fine. Just plot in the destination and enjoy the walk, which will take you through winding back streets and alleys.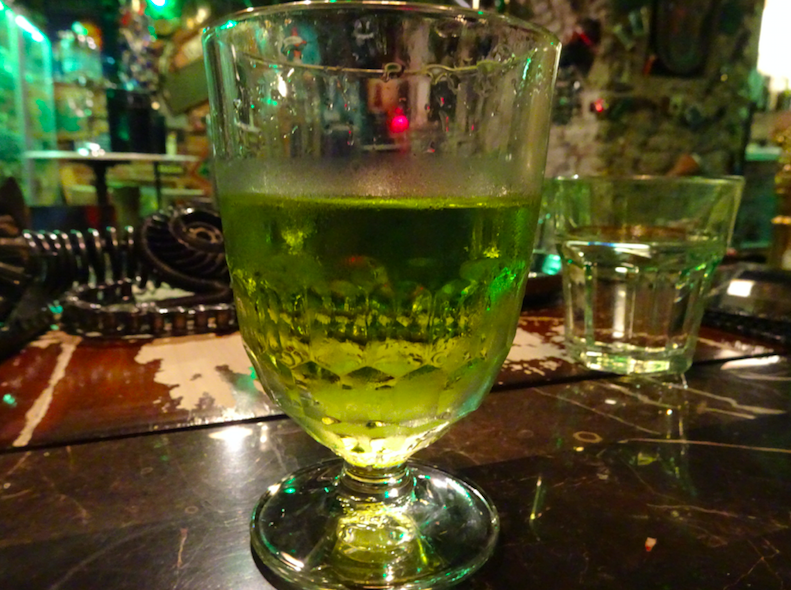 Eventually though, you'll come to this little set of stairs that go down towards the museum or bar. You'll notice very interesting illusion type art work on the walls. I think this is because Absinthe historically has been known to cause hallucinations and visions. I actually did try some but only a few sips of my girlfriends drink.
I really don't drink at all these days, and Prague was probably the only time in the last year I can remember having any alcohol, but I figured if I was going to drink anything, burning green absinthe in a creepy basement type bar was going to be it!
If you go, make sure to go when it's slightly less busy, because the bar man will actually give a full demonstration of the absinthe distilling, burning and tell you more about how it's made. I filmed this all in the vlog of the day seen below:
2: Reon Argondian art cave
A little bit of a walk outside the city but if you walk up towards the top of the hill/(can we call it a mountain?) you'll find on the side of the path, this little hut. It's actually where the artist who painted most of the art work you'll see below LIVES.
I didn't know this until I was leaving, and I heard an old man coming out of one of the rooms and talking to the young girl at the front of the house. He said 'Oh wow, business is good today! I'll start painting some more then!' or something like that.
I later discovered after researching it that yes, he does live there. You can actually save some money by getting a student discount on this place, but sadly I forgot my student card. The actual art building itself takes about an hour to fully appreciate although I imagine true art fans who know more about the history and have more time to spend in Prague would spend longer there.
You can actually get free food and drink there. Although, don't expect too much from it, it's essentially little cups of squash and some biscuits. Maybe this menu changes depending on the day but that's what I got! You can read more about the Reon Argondian building in my other post if you want to learn more and see more photos from inside.
3: Kutna hora (basement of bones)
This was a little coach ride (or Uber ride) away but you'll get to this little village which to be honest, doesn't have much in it apart from the Sedlec Ossuary which is where the bones are in the basement, and a huge cathedral building. We actually went on a tour for this trip and it was very good value. You can watch more about this day here:
We met in the centre of Prague in that large square with all the street performers, and then got a short coach ride to Kutna Hora, which is the little village/town with everything in it. The trip actually did include food but we just bought our own packed lunch and sat down at the cafe to eat it with everyone else on the tour (I think they did have vegan options in the end, but I didn't want to risk a set menu).
When I got down into the basement full of bones, there were lots of people. To be honest, the line to get in was pretty long. BUT our tour guide was able to just get us to completely skip the line and go in some back entrance, which was really nice, and a huge time saver.
Without that, and if you went here privately in an Uber or if you drove, you'd be waiting for about an hour to get in, at least if you went when I went. There's also a little gift shop but it's SMALL and not more than 5 people could really fit in there comfortably. That being said we still managed to fit about 15 people in there, and none of us could move.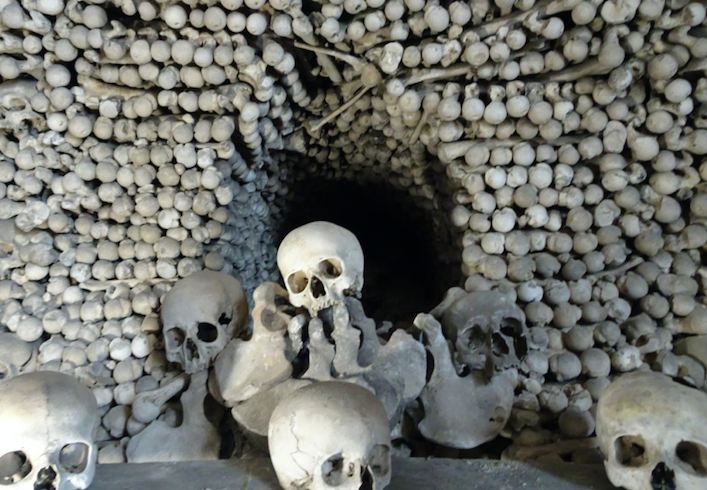 The cathedral is also really cool, so make sure to check that out and walk all the way up to the top up the little staircase. The view from the top is lovely, and you can look down the middle of the cathedral at the church section below.
4: Golf and games glow golf
As I've said, I don't like nightlife. I tend to prefer to wake up early and go on a hike or see something amazing in daylight. I usually moan if my friends say they want to just go out to drink, so we compromised. We went out for the night, and hit a couple of bars but we also checked out a glow in the dark crazy golf course.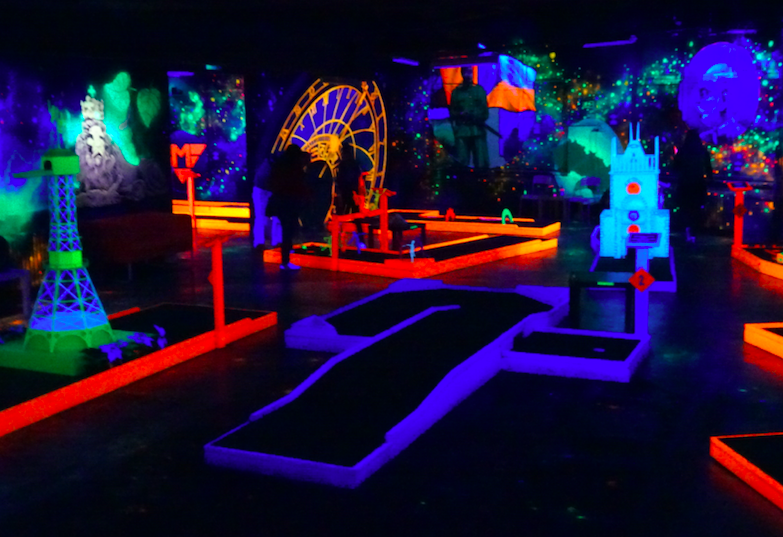 Golf and games was a really interesting place, and it's super easy to find as well. It's an old warehouse that's been modernised and converted into a huge crazy golf track with UV paint and art work on all the walls. There are lovely golf holes and things all over the place, and you even get a couple of free drinks with your ticket!
You can read more about the golf and games from my blog post about it (I share some tips there on getting discounts) or you could watch the vlog from that day: 
5: Hiking Bohemian Switzerland
Ah, back in my element. Hiking is something I've always loved, more than anything else. I just love the walk, the fresh air, scenery, and the view from the end of the hike. This was a PERFECT place to go, but it was slightly outside the center of Prague. In fact, it was about a two hour drive away from the center.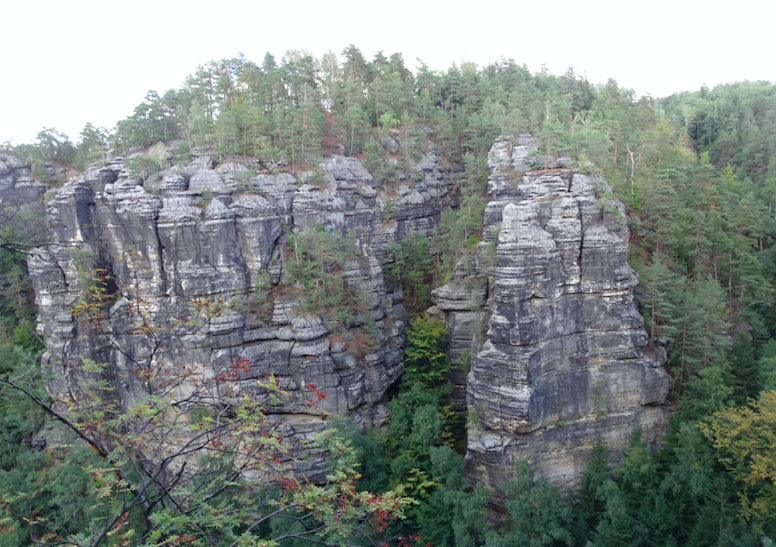 We ended up having to hire a car for this one. One night as the storm was hitting Prague (We were pretty worried about it at the time but it turned out to just be a loud thunderstorm with heavy rain) we booked a hire car. The car was the best way of getting to this hike because Ubers tend to not go far out of the city, at least not without charging a huge amount.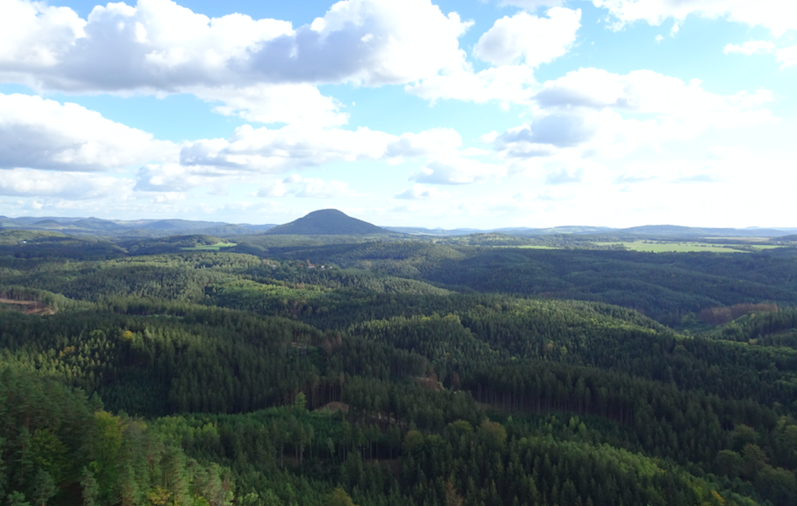 We hired a car fairly cheaply and after about a two hour drive, we got to a lovely little village which I wish we had more time to explore, and parked the car. There were actually some lovely views on the way to the hike starting point like rivers and mountains, but we were pressed for time because we woke up late, so we just carried on driving.
The hike itself took about 3-4 hours I think from start to finish, although it's hard to remember exactly how long it took. I just know that we were walking for hours.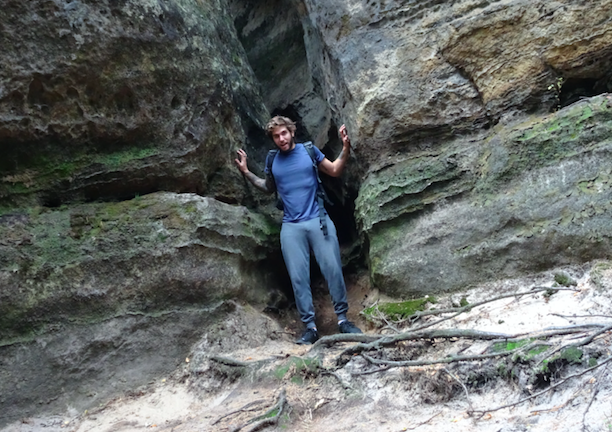 The whole way though I was stopping to take pictures and film things though, because the views and forest scenery was beautiful. At the bit right near the top there's a cute cafe that sells food and beer and things like that. The staff don't speak English and didn't seem very happy to hear that I did, but either way, it's cheap food.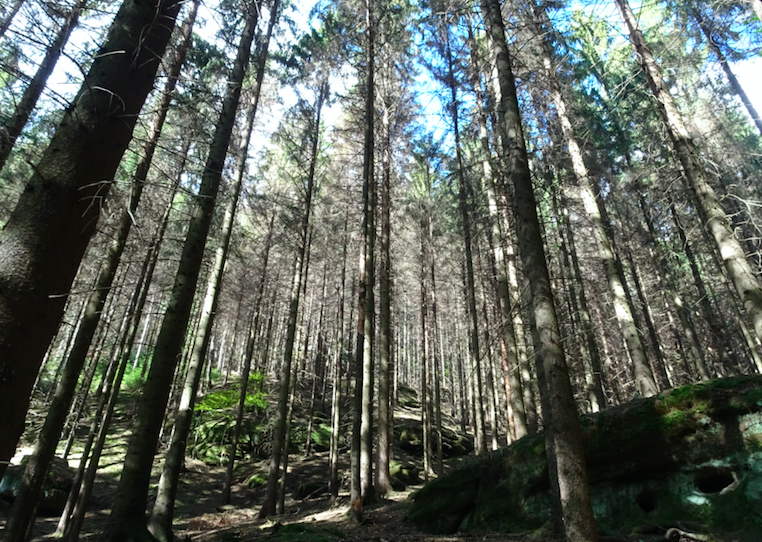 After a bit of the hand pointing to the chips routine I got some food and took a minute to rest and look at the view. The view from the cafe is lovely, but don't stop there. After you've refreshed yourself, (drink water because there's nowhere at the top to get any) you're ready for the last part of the hike.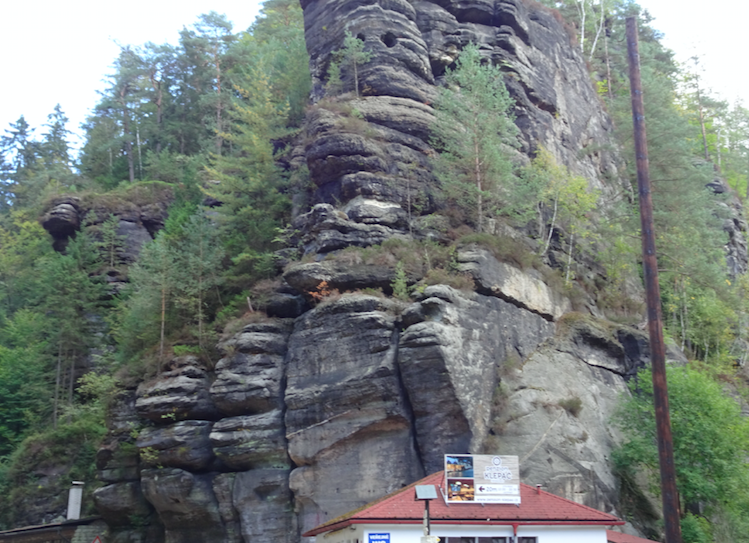 The last part takes you about 45 minutes further up to a beautiful panoramic view of the forests and hills around, and those lovely pillars of rock sticking up from the forest floor high into the sky. There was an old man rock climbing on one of the rock faces which was really cool to see!
As usual, I vlogged the hike for you!
6: The musuem of illusions
The actual name of this place was the 'Musuem of the senses' but illusions is more fitting. It's a really good value for money place to visit actually, and if you're only here for a few days and don't have time for the hike, this is probably in my top 3.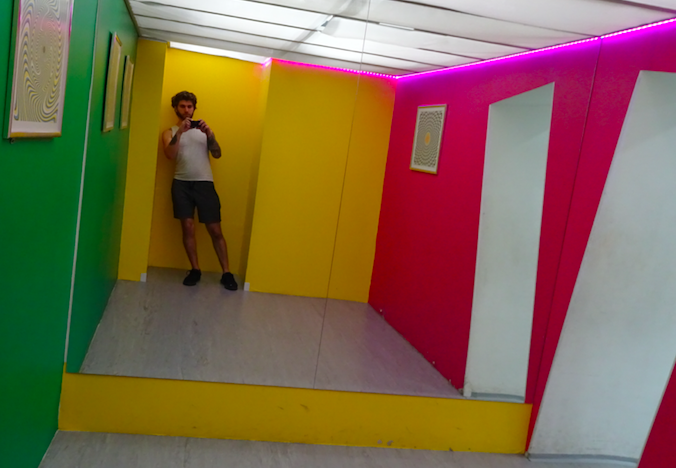 It's a building filled with interesting and trippy little things like a mirror maze, spinning space bridge (not sure what else to call it) and weird things like real life 3d illusions and art, a bed of nails and much, much more. I won't give away too much because I think you'll really prefer to just experience it in real life for the first time.
You can check it out in my vlog below, but if you like the look of it I would suggest stopping watching and just booking it and going to visit. You don't actually need to book in advance, you can just turn up and buy a ticket on the door. Again, there is a student discount but I forgot my card.
7: Exploring the markets and shops
The markets and shops in Prague area really nice. I will say, there's not a HUGE amount of options for Vegans, but there are certainly options for vegetarians. The cafes and restaurants aren't too expensive, although they don't often take card (certainly the smaller ones don't). You'll be able to find most things you need in the markets or shops, but the further away from the center you get, the less options you have.
There is actually a fairly large part of Prague around the edges of the city which has not much to offer. The main activity and things to do are in the center without about 1-2 miles of eachother, so if you're picking a place to stay, try and aim for near the center.
8: Prague castle and gardens
The Prague Castle is actually a really nice place to visit, and it's easily enough to fill a whole day out. We got around everywhere using Uber, which was VERY cheap and fast. There are also trams and various other public transport options, but because the trams are only really for getting around the main shopping and commercial areas, they don't make sense for a lot of the places we went to.
There are PLENTY of opportunities for pictures and enjoying the scenery in Prague Castle. There's also a lovely little cafe inside the castle walls which we stopped at to get some drinks and food. Actually, we snuck our own food in and just ate it when nobody was looking, but I'm sure you'll be fine.
Within the castle, you really have the choice of how you move around it. There are lots of things to do and see inside it, like there's a torture museum, a place to fire crossbows, and various other things. A lovely place in the castle grounds to have lunch is the Pagoda area round the side the building near the ENTRANCE to the castle.
9: Prague zoo (mixed reviews)
Prague zoo is actually a place with mixed reviews from me. On the one hand, I feel like zoos are interesting, and it's always nice to see animals you don't normally get a chance to see, but then on the other hand, I don't like animals being held captive.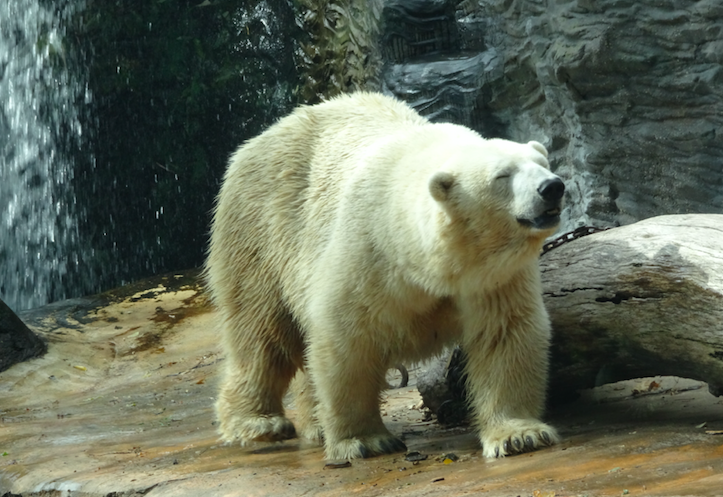 And this zoo, I have to say was not very ethical. There were polar bears, but they just weren't given enough space to move around and live, and they were just swimming back and forward in a tiny patch of water, looking very unhappy.
That being said, for a lot of the animals, they're very happy there and actually do thrive in captivity. Animals like spiders for example. Now, I LOVE spiders, and in Prague zoo, there were SO MANY spiders. I've never seen so many spiders in one zoo actually, and they all had large plastic tanks to roam around. There are some species that prefer to be in small tight spaces, so they were also catered for.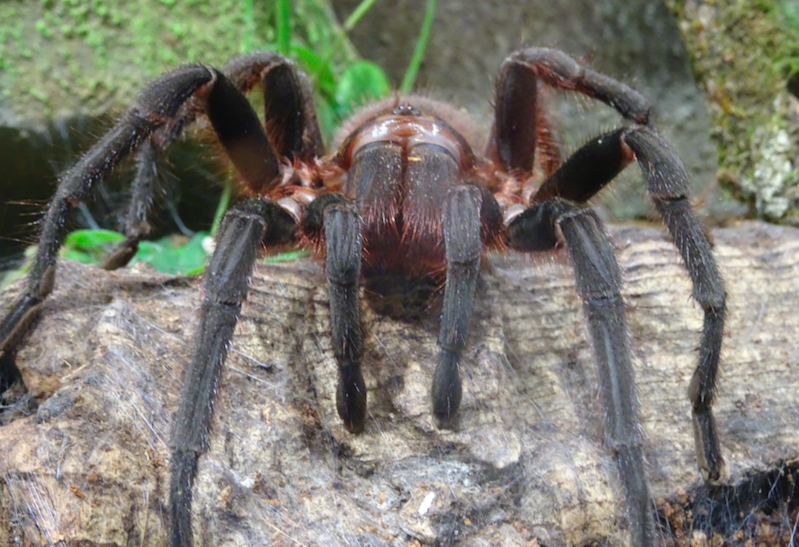 You can see in my vlog towards the end, the sheer number of spiders in the zoo, in a special spider section. I asked the attendant in the spider hut if I could hold one but she just laughed and smiled. I assume that meant no, but it can't hurt to ask.
10: River cruise
A lovely way to spend just under half a day is to cruise along the river that runs through Prague city. It's really refreshing to see the city from a different angle, and the river cruise is a great way to do that. You can book various cruises that go different distances and places. The one we went on, just went down the river from the main port and into 'little Venice' which is an area of tight little canal corners and streams.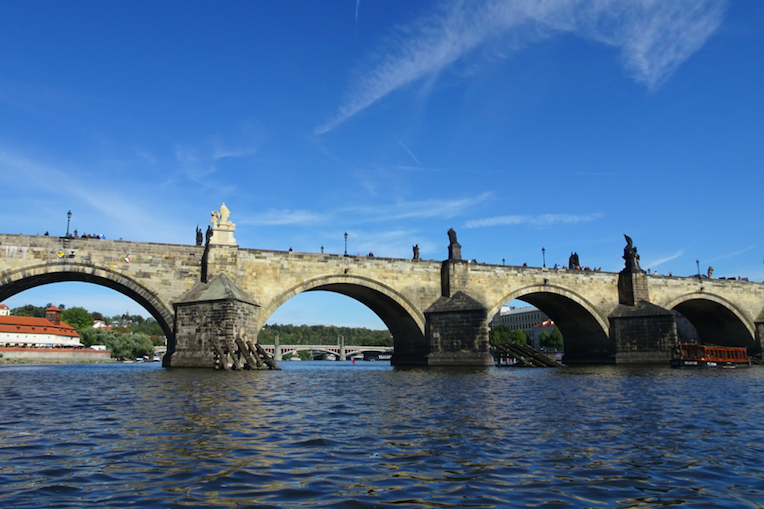 We were only the little boat alone with one other person, and it was super cheap as well, so well worth doing if you're spending more than a couple of days in Prague. Make sure to take some pictures!
11: Idiom installation
This is one of those things that might not be worth spending a whole day trying to find and visit, but if you're NEARBY then it's well worth checking out. It's a massive library, but specifically it's the little statue in the center of the library, where they've arrange hundreds of books in a circle.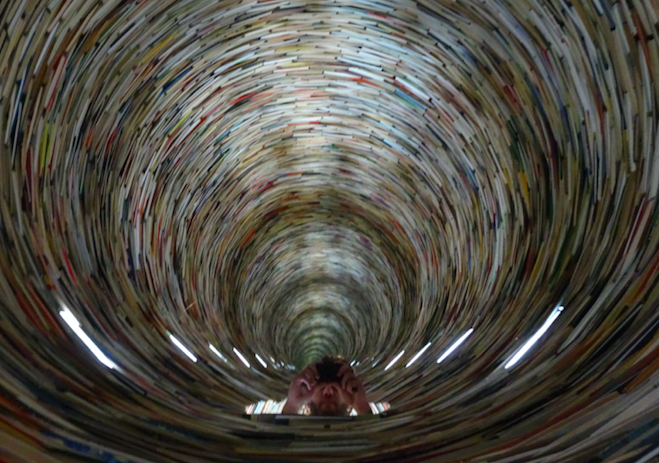 There's a small hole in the side of the cylinder of books that lets you peer into it, and on the top and bottom of the tube of books there's a mirror, so it looks like the tunnel of stories is going on forever in both directions. I had to wait a good 5 minutes for people to take photos in and around it before I could get in and get a shot, but it was pretty cool!
12: Anonymous bar!
Now, as I said I don't do nightlife. I think to a large degree, society these days uses alcohol and a numbing tool and almost a social crutch, and the nightlife business is built around that dependency and hinges on people needing to numb themselves to fit in.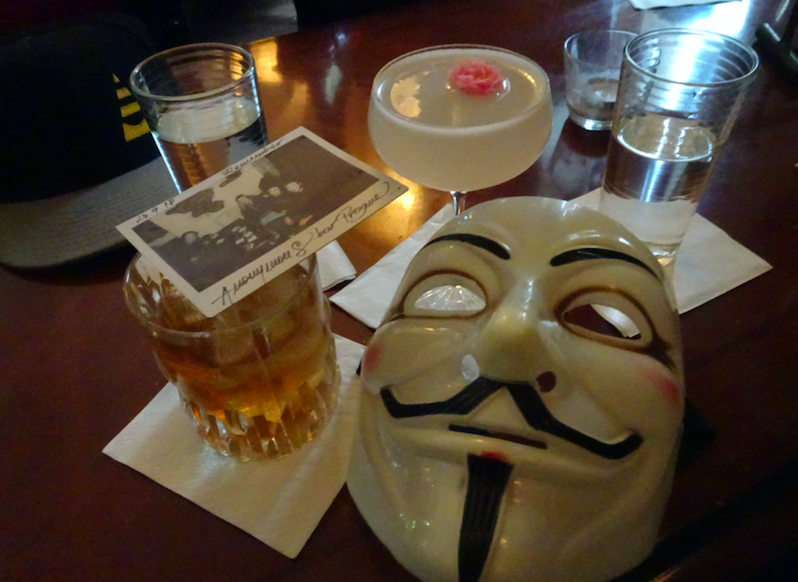 That being said, sometimes I drag myself out to a bar especially if it's really interesting, unique or themed. This bar, was pretty awesome! Inspired by the film V for Vendetta and the Anonymous movement, the bar has loads of fun and unusual cocktails and drinks.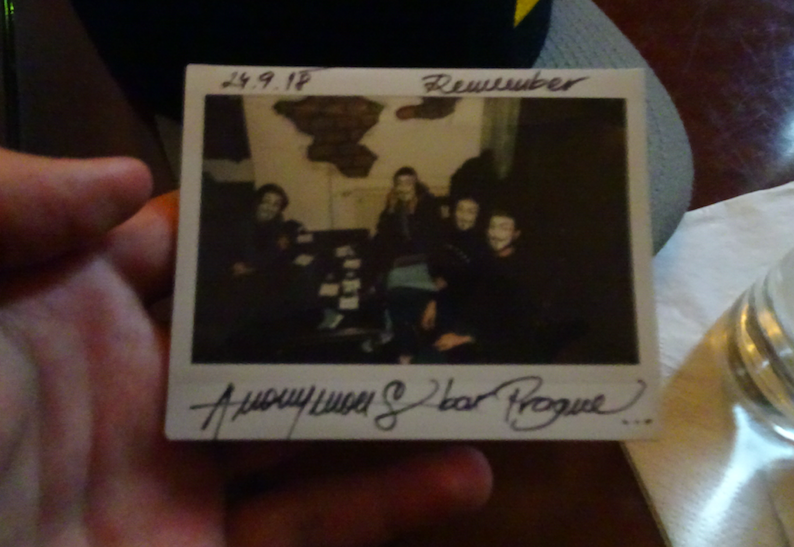 There's even a secret menu hidden in invisible ink on the menus they hand out. You have to ask for it, AFTER finishing your first 'normal' drink. You then ask for 'the secret menu' and they nod and come back with a UV torch that lets you shine light on the menu to reveal the invisible ink. With one of the drinks on the secret menu, they take a polaroid photo of you and give it to you to keep!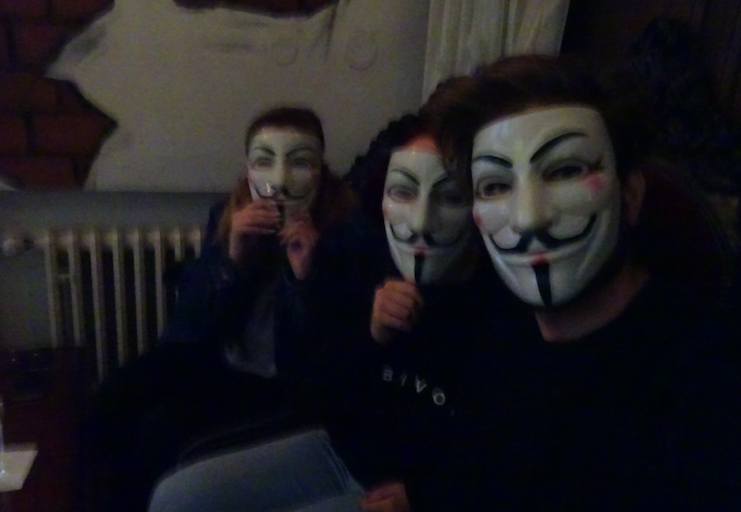 It's a lovely idea, and the masks and interesting art around the bar make it well worth a visit. I think there are actually TWO anonymous bars in Prague. I couldn't tell you which one we went to, but it was nice!
13: Art galleries
There were several lovely art galleries, the one that sticks in my mind is the one for Leonardo Da Vinci near the center. It sort of overlooks the main central square of street performers and it's not expensive to enter. I think it was about $3 to get in and walk around for as long we wanted. I'm not much of an art fan on the best of days but this was very unique and I enjoyed it! I think there were actually several art galleries in the same building but we just paid to go and see one. I can't say how good the other ones were, but yeah, check it out!
14: Lennon graffiti wall
We had to walk around to find this, because we just saw a few pictures on Instagram of this beautiful wall covered in graffiti with positive messages. Things like 'Do what you love, love what you do' and 'F**k wars' and things like that. Very cool place and won't take you long to have a look and take some pictures. If you walk round the corner from it like we did you'll find a little John Lennon pub and museum, although everything in there looked pricy so we left and moved on.
15: Prague sex museum
This was a naughty place! Lots of 'models' and 'items' on display. Not one to bring kids to but if you're up for a laugh it's an interesting place to check out. I think the price for this one was a bit more, something like $4 or so per person. If you're wondering why I can't remember exactly details it's because I went to Prague about 7 months ago or so and since then I've been round Asia for 4 months, I just forgot to write the blog post about Prague!
Travel tips for Prague
As far as getting around Prague, it's pretty simple. The main city is arranged in a fairly sensible way, (not like Saigon in Vietnam!) and you can normally find things just with Google maps. There's no real problems with getting around, but if you don't want to do the 1-3 hour walk from one end of town to the other you can just get the train (I didn't get it this time) or get an Uber.
Get Ubers everywhere!
Uber was a life saver when I was in Prague, they make it so easy to book a ride and get from A to B cheaply and safely. The best thing about Uber and many ride sharing apps is that it takes the fear of getting scammed out of getting around in a foreign place. Many places have a reputation for taxi drivers scamming tourists, but with ride sharing they can't!
If an Uber rider scammed someone, they'd leave a bad review and report them, and that would probably be the end of them getting sent customers by Uber, so the problem would stop. I'm not saying NOBODY gets scammed in Prague, I'm sure people get scammed everywhere, but I certainly didn't.
Get out and see the countryside
I'd say my HIGHLIGHT of the trip to Prague, was actually when we got OUT of Prague to go and hike Bohemian Switzerland, but that's just because I like hikes and mountains. I think second to that, the museum of the senses, river cruise, and Prague castle were the highlights for me.
It's hard to say what the BEST thing to do in Prague is, because we all like different things. If you are into nightlife, then you'd probably like the 7 story clubbing megabuilding near the river, I didn't go there so I can't comment. I think it's pretty cool, and I did walk THROUGH the bottom section which has some shops and things in the walkway, and I got a glimpse of the ice bar, which looked nice!
Don't be afraid to explore
I always love to just walk around and explore things in the places I visit. It's a great way of seeing things that aren't on Google, or nobody has seen yet. Also, you've got to think if you don't walk and explore, you're limiting yourself to ONLY seeing the things that other bloggers online have been to and written about. That's not the best way of traveling, you should read posts like these to get an IDEA of what to do, but always find new things too.
There were probably LOADS of things I could have done that were all around me the whole time, but I just either didn't have time to find them, or didn't know about them. Just take a walk around, and actually when I spoke to one of the locals in Prague center, he said just to walk around and see what you can find. It's the best way of finding new things.
Warnings about Prague
To be honest, MOST of the warnings you'll read about Prague are in reference to the nightlife. If you go out at night and drink, ANYWHERE, you're more likely to run into trouble than if you only go out in the day time.
So much like ANYWHERE in the world, go out and drink at night, you get the slightly worse part of the society going out, drug dealers, scammers, thieves etc, this is the case in most places. So I'm sure the same warnings apply to Prague than do anywhere else.
Be sensible, don't bring ALL your money out with you, don't walk down dark alleys, don't get into cars with strange men, you know the drill. I think there's a pickpocketing problem in the big tourist areas, but I didn't notice anything. I think after traveling for so long I'm sort of immune to most pickpockets.
I just keep my valuables in the deepest part of my rucksack, or literally strapped round my wrist so it's pretty hard to just take them. Of course, like with anywhere else if you leave a phone or a wad of money hanging out of your back pocket, and then walk through a bustling city center square, someone could take it. You're sort of asking for it as well.
There are no free snake pictures!
This wasn't really a scam as such, but something I should have seen coming. I was slightly tired and didn't really think straight for this situation, but here's what happened. So I'm walking across one of the main bridges in Prague, you know the ones full of musicians, tourists, artists doing paintings, street vendors etc.
And in the middle of the bridge near the end was a man holding a GIANT yellow snake round his neck. I was already vlogging as I walked towards him, so I rapidly walked round to the front to film him holding this snake.
He instantly spots me and his opportunity, and smiles and comes over to me, lifting the snake and practically putting it round my neck before I can even talk. He says 'You hold it, I take picture' and extends his hand to grab my camera. My instincts kick in and at this point, I sort of know what's coming but I've got this far, and I really wanted a picture with the snake round my neck.
I hand my camera to my friend (so he couldn't keep it or run off or something) and hold the snake round my neck, I say thank you and as I walk away, he says '10 Euros'. I realise that of course, he wasn't just standing there with a random snake, he was making money. I didn't actually have any money on me at that point, just my card.
He wasn't happy about that, but my friend paid for me and we left. So long story short, if you see something like that with a snake or whatever it is, or you get approached by anyone asking to take your picture or something, SOMEWHERE along the lines, it will cost you money.
It might not be obvious at first, but it's coming! These people make their money in that way in most cases, and to be honest, it's not the end of the world to pay 10 Euros for a picture, but if I'd known I probably wouldn't have walked up and started the whole situation. I'd have just filmed him from afar.